What you should know about wood flooring and heated screeds
In the last years, this kind of heating system has become more and more widespread. Unfortunately, the literature on the subject in Italy has little experience to draw from, which  has encouraged the flourishing of superficial and often totally erroneous beliefs that over the years have largely taken root in the industry, thus clouding the final consumer's choice.
Thermal conductivity
A study by the Department of Forestry of the University of Florence and articles on specialized magazines, in particular Professional Parquet (issue No. 04-06, July 2006) and Il Posatore  (issue No. 60, March 2006) have shown  that:
thermal conductivity increases as the WOOD DENSITY (through which the heat passes) increases; therefore, while distinguishing between the various wooden species, in general, solid wood floors are less insulating and provide better thermal conductivity than multilayer floors, which are made with only a few millimeters of veneer wood and a substrate consisting of low density wood that conducts heat in a limited way.
So, UNDOUBTEDLY, THE BEST HEAT CONDUCTOR IS SOLID WOOD THANKS TO ITS HIGH DENSITY.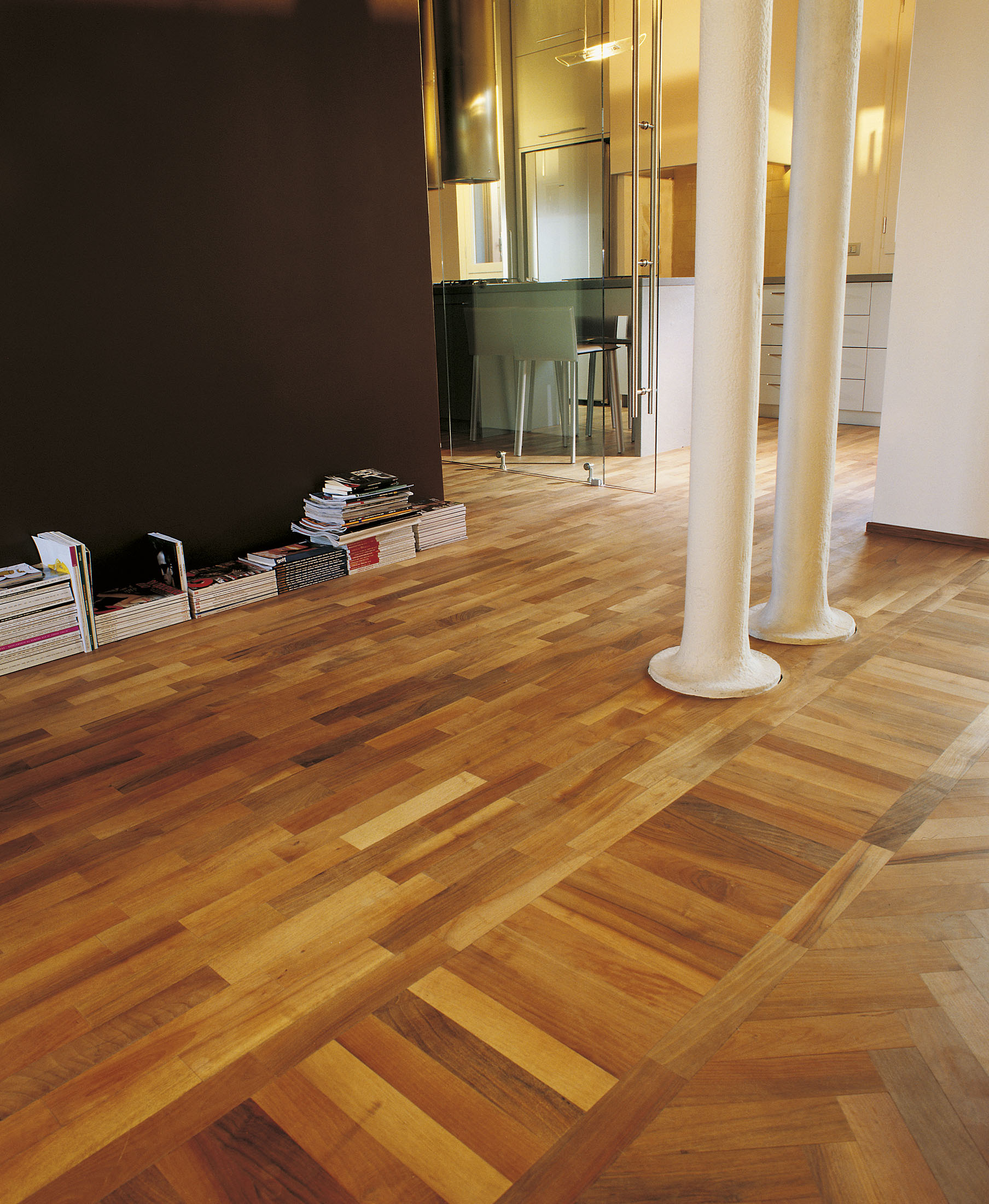 Useful facts
Wood moves. Contrary to popular belief, temperature does not affect wood movement, but rather variations in moisture content make wood swell or shrink and only in width. In short, we can state that wood over underfloor heating is by no means a problem for us; on the contrary, we have been manufacturing and installing wooden floors for our most-demanding customers in terms of quality, exclusivity and long-time durability.
We would like to remind you that only we, and nobody else, are responsible for our creations.
Wood: many talk about it but only those who manufacture it perhaps know it well.
Raw material: we have been working with wood since 1948, and, being it our raw material par excellence, we know this fine material remarkably well. We import timber from Europe in a continuous quest for top quality.
Oak for example, as with all wood species, is mistakenly believed to have the same characteristics of stability, colour, hardness, density regardless of its origin.  It is not considered that wood, like any other natural material, is affected by the environmental factors of the zone where the tree was born and grew for many years, which substantially determines its constituent features.
Therefore there will be wood from certain areas that is unstable, while the same kind of wood from other areas is very stable, for this reason it is important to know which are the best regions in Europe for each variety of wood to grow.
By working every day for more than 70 years, we have acquired a wealth of experience that allows us to invent and build formats that many are not capable of doing.
Any layman can recognize the finest wood, just think about the quality and durability of the artifacts that the hands of experienced cabinet makers left us.
Ageing and drying
The determining factor in woodworking is the process of natural ageing. It takes time, a lot of it, even years. We naturally age wood so that it gradually loses its lymph, and only afterwards, through a slow artificial drying process, the residual moisture is removed, thus reaching moisture values as set out by the law.
This woodworking phase is also of crucial importance for the creation of a high quality floor, endowed with peculiar stability features.